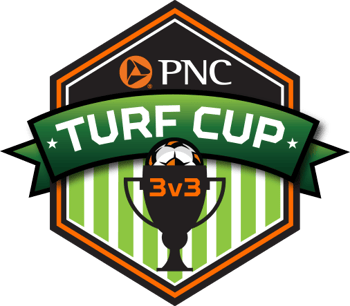 The club hosted their annual 3v3 Turf Cup brought to you by PNC on April 8 to provide lots of excitement to kick off the Easter weekend. One hundred and sixty five teams teams were hosted at Bear Branch soccer complex, The Woodlands, TX. The event included over 1,200 boys and girls, from the ages of U7 - U14 with 7,000 spectators in attendance. It was a enjoyable action-packed Saturday for all the teams that traveled in from across the city of Houston and surrounding areas. Activities included over three hundred and fifty (350) games along with soccer tennis, live music with DJ, dance competitions, juggling stations, Easter egg hunt along with an array of awards and presentations.
"This year saw some very imaginative costumes and an array of festival activities, said Milton Arraez, 3v3 Tournament Director. "Turf Cup is a great event to help celebrate the Easter weekend for our members and the visiting teams on first class facilities."
"The club in partnership with The Woodlands Township have continued to excel in providing youth soccer tournaments for the last 18 years," said Simon Boddison, Director of Soccer Operations. "Providing positive economic impact to the local community and hosting events for our residents to attend without extensive travel is why we continue to grow our tournament series yearly. We look forward to hosting the South Texas Spring Showdown in May to close out the Spring season."
The club would like to thank Potbelly and Lenny's Grill & Subs for donating food and Memorial Hermann for first-class medical care. Fine Design T-Shirt Company were also on-site, providing a quality product for the members and our guest teams to purchase.
| | | |
| --- | --- | --- |
| AGE GROUP | BOYS JUGGLE WINNERS | GIRLS JUGGLE WINNERS |
| U8 | Johan Trojio | Kiley Palomo |
| U10 | Michael Duan | Catherine Sanders |
| U12 | Eli Georgas | Gema Perot |
| U14 | Benjamin Gauvert | Addison Dimmick |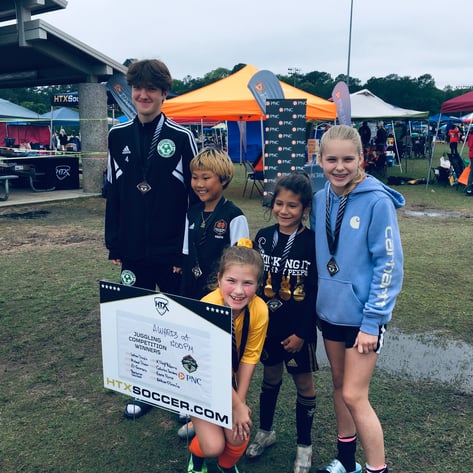 Above: Juggling Competition Winners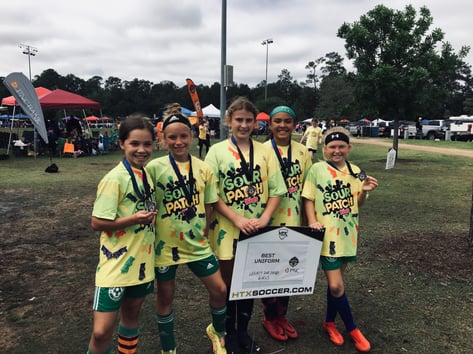 Best Team Uniform Winner: Legacy Sour Patch