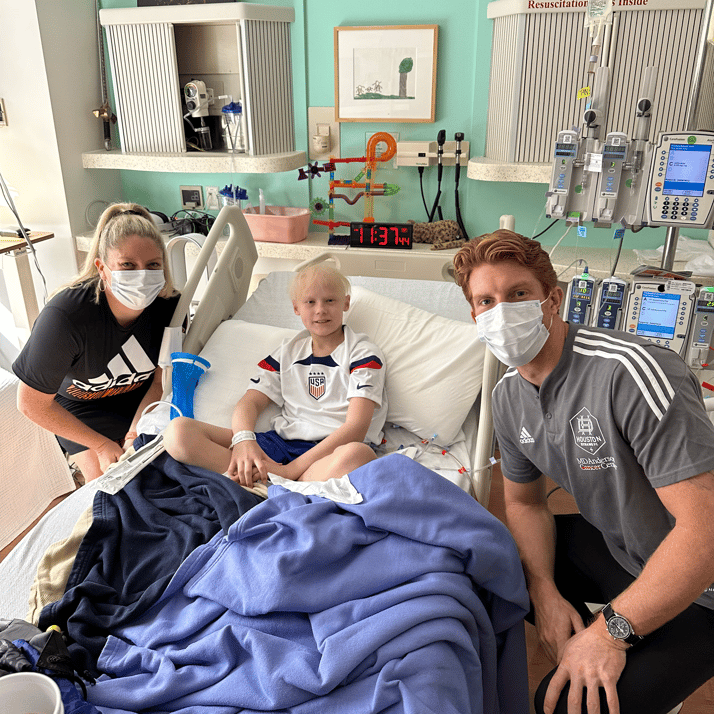 The club is extremely excited to announce that 10-year-old Benjamin Cross departed from Texas Children's Hospital after completing multiple rounds of chemotherapy and a bone marrow transplant provided by his older brother Noah to cure acute myeloid leukemia! While most kids his age were enjoying the summer fun, Ben began his first round of chemotherapy on July 14th. He then battled for nearly four months and was released on November 5th. Even during the toughest time of his life, the love for soccer never left Ben. During his stay, former Dynamo player Tim Parker made a special visit to bring his spirits up.
Ben is in remission, and the club would like to extend their thoughts and prayers for Benjamin and his family, wishing him all the best for a full recovery.
"When describing our club and what our core values are, there is no better player who embodies every single core value that we have than Ben Cross. He's a person that works hard every single day and fights until the very end. His compassion for others and his teammates is unmatched, and he is always willing to put others before himself. There was rarely a day where you would see Ben without a smile on his face doing what he loved," said Jason Olvera, Director of Coaching - Youth Academy. "These last few months, Ben has shown courage like no other with constant battles in the hospital and new obstacles to overcome. He continued to persevere and has made it out on the other side. And for that, we are all so grateful and ecstatic to welcome him home, where he can be surrounded by loved ones on his road to recovery. Ben has been an example of what it means to fight even when odds are stacked against you. He's as strong as a cross."
Ben is a true example of what it means to be a member of the Dynamo | Dash family. His positive attitude and passion for the sport inspires many on and off the field.
"It's fantastic news that Benjamin was released from the hospital and is slowly making a recovery at home," said Radojica Ristic, West Director. "Benjamin is very much part of our Dynamo | Dash family, and we cannot wait to welcome him and his family back to the fields when the time is right."
Keep Ben in your thoughts and prayers as he continues his road to recovery. Ben is a son, a friend, and a young person filled with compassion. Please consider visiting https://www.caringbridge.org/visit/benjamincross to learn more.