The club started it's first weekend of competition within the new Frontier Player Development League at Lents Family Park hosting Oklahoma Energy FC and came away with some very positive results being undefeated after six games.
The US Youth Soccer National League Frontier Player Development League is under the banner of the Frontier Conference, one of 13 Conferences under the US Youth Soccer National Leagues Program in the Multi-State Tier. The Frontier Player Development League consists of teams primarily from Oklahoma, North Texas and South Texas.
The Frontier Player Development League (FPDL) is composed of member clubs who have a U.S. Soccer Girls Development Academy (DA) program. The FPDL is a pilot program league developed to address the needs of the Girls Development Academy Clubs within the Frontier Conference, namely, player pool depth, staffing and college recruiting.
Results:
2006 Won 1-0 (Skylar Grutkowski)
2005 Won 2-0 (Lauren Littleton, Peyton Wilkerson)
2004 Tied 0-0
2003 Tied 2-2 (Montserrat Castillo, Jordan Porter)
2002 Won 2-0 (Victoria Davis, Leah Sanchez)
2001 Tied 2-2 (Emma Ebert, Lauren Hermosa)
Total: W3 - T3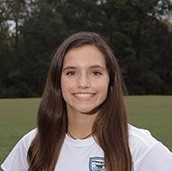 "For our first game I thought we came out strong. We had a lot of chances but couldn't finish some of them. We executed our set pieces well and I was able to finish a header off a corner." Emma Ebert, U19 FPDL.
"It was great to see our teams get off to a strong start in the first weekend of FPDL games going undefeated against Oklahoma City Energy FC. All the hard work the players and staff have put in the last four weeks definitely paid off and the level of competition and soccer played was impressive." Darron Rush, Director of Coaching - Frontier Player Development League.