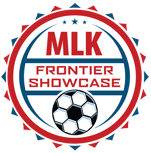 The first annual Martin Luther King Frontier Showcase (MLK) was a tremendous success hosted in The Woodlands, TX at Bear Branch and Gosling sports complexes, January 15-19. The following elite clubs were represented in Baltimore Armour, MA; Rio Grande Vally FC, TX; Solar, TX; Dallas Texans, TX; Real Colorado, CO; Rise, TX; Austin FC, TX. Over 100+ college coaching staff registered and were in attendance.
Dynamo Unidos Results:
Dynamo Unidos '04 vs. Baltimore Armour 5-3 (Won)
Scorers: Franklin Hernandez (2), Abel Piedra, Diego Diaz (2)
Dynamo Unidos '03/02 vs. RGV Toros 5-0 (Won)
Scorers: Agustín García (2), Loannis Moros, Steven Hernandez, Ángel Hernandez
Dynamo Unidos '06 vs. Real Colorado 1-2 (Loss)
Scorer: Sebastian Faudoa
Dynamo Unidos '05 vs Baltimore Armour 3-1 (Won)
Scorers: Victor Hernández (2), Hernán Berber 1
Dynamo Unidos '06 vs. RGV 1-0 (Won)
Scorers: Luis Martínez
Dynamo Unidos '05 vs. Dallas Texans 0-1 (Lost)
Dynamo Unidos '04 vs. RGV 1-1 (Tie)
Scorer: Graham Miller 1
Dynamo Unidos 03/02 vs. Real Colorado 1-2 (Lost)
Scorer: Agustin García 1
Dynamo Unidos '06 vs. Solar SC 1-4 (Lost)
Scorer: Mateo Arroyo
Medical care services were brought to you by:

Team hotel arrangements were sponsored by:


"I would like to thank the teams, club coaches, referees, volunteers, Frontier Conference clubs and the college coaches who attended the first annual showcase event at our complex. The club has a continued responsibility to provide a variety of showcase opportunities for all the players which are attended by college coaching staff. Providing a first class event hosted on our home facilities enables the players to be recruited over a four day period without having to extend our travel schedule. Based upon the overwhelming positive feedback, I look forward to welcoming everybody back and further expanding this event in 2022."
Dave Dengerink, Academy Director
"What an incredible showcase this weekend at our home facilities. My son playing teams from across the nation in front of college coaches is the opportunity he has been looking to get. The Dynamo coaches are taking these players to the next level in terms of college exposure."

Troy Tice, Dynamo Youth Parent
"I am very thankful that I had the opportunity in the MLK Frontier Showcase during all the adversity the nation is going through. I got the opportunity to showcase the skills that I have developed in the last year to the college coaches that took part in the event. I want to thank the whole Dynamo organization for making this happen."
JJ Abusada, U19 Dynamo Unidos Player
The club has placed twenty seven (27) players from the 2021-22 graduation classes already into the collegiate ranks. We will continue to work with all the prospective student-athletes that are currently registered within the College Center program to obtain athletic and academic scholarships in college.
The club continues with their January tournament / showcase program by hosting the following two events; Dynamo Premier Cup (January 22-24) and Dash Premier Cup (January 29-31).
---