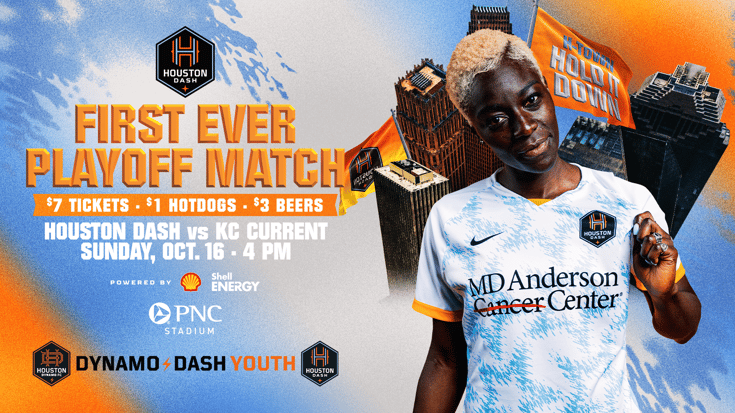 Dash Playoff Tickets:
Dynamo | Dash Youth players, coaches, and families, grab your tickets to the 2022 NWSL Playoff match featuring your Houston Dash! This matchup features the Dash's first-ever playoff game, as they host the Kansas City Current on Sunday, October 16th at 4:00 p.m. at PNC Stadium.
Each player is eligible to redeem their complimentary player ticket for being a member of the program. Family and friends can add seats for an exclusive price of $7. The game will be a (713) Night, which means $1 hot dogs and $3 beers will be available in the stadium.
Redeem or get your discounted tickets here.
"It's amazing to be at home and take part in such a historic moment for the club," said Michaela Abam, Dash Professional Player / Dynamo | Dash Youth Soccer Club alum. "It would be such a great privilege and honor to have my youth club come out and support us as we take on our first challenge in the playoffs!"
Have questions or need help regarding the purchasing of group tickets of ten or more, please contact Doug Sitton, Youth Ticket Sales Manager at dsitton@houstondynamo.com or call (832) 727-4078 (mobile) or (713) 276-7537 (office).