21 Dynamo | Dash Youth Class of 2022 players sign National Letters of Intent
Dynamo | Dash Youth Soccer Club is proud to announce that 21 members of the Class of 2022 have signed a National Letter of Intent (NLI) on National Signing Day to continue their soccer career in college. These commitments include nine (9) NCAA Division I schools, as well as several powerhouse Division II and III programs.
Dynamo | Dash Youth continues to lead the way in the Houston area in player development, with over 240 college commitments since 2017 and 42 national team selections. The graduation class of 2021 saw 50 players commit to play college soccer, including the entire Girls Academy U19 squad.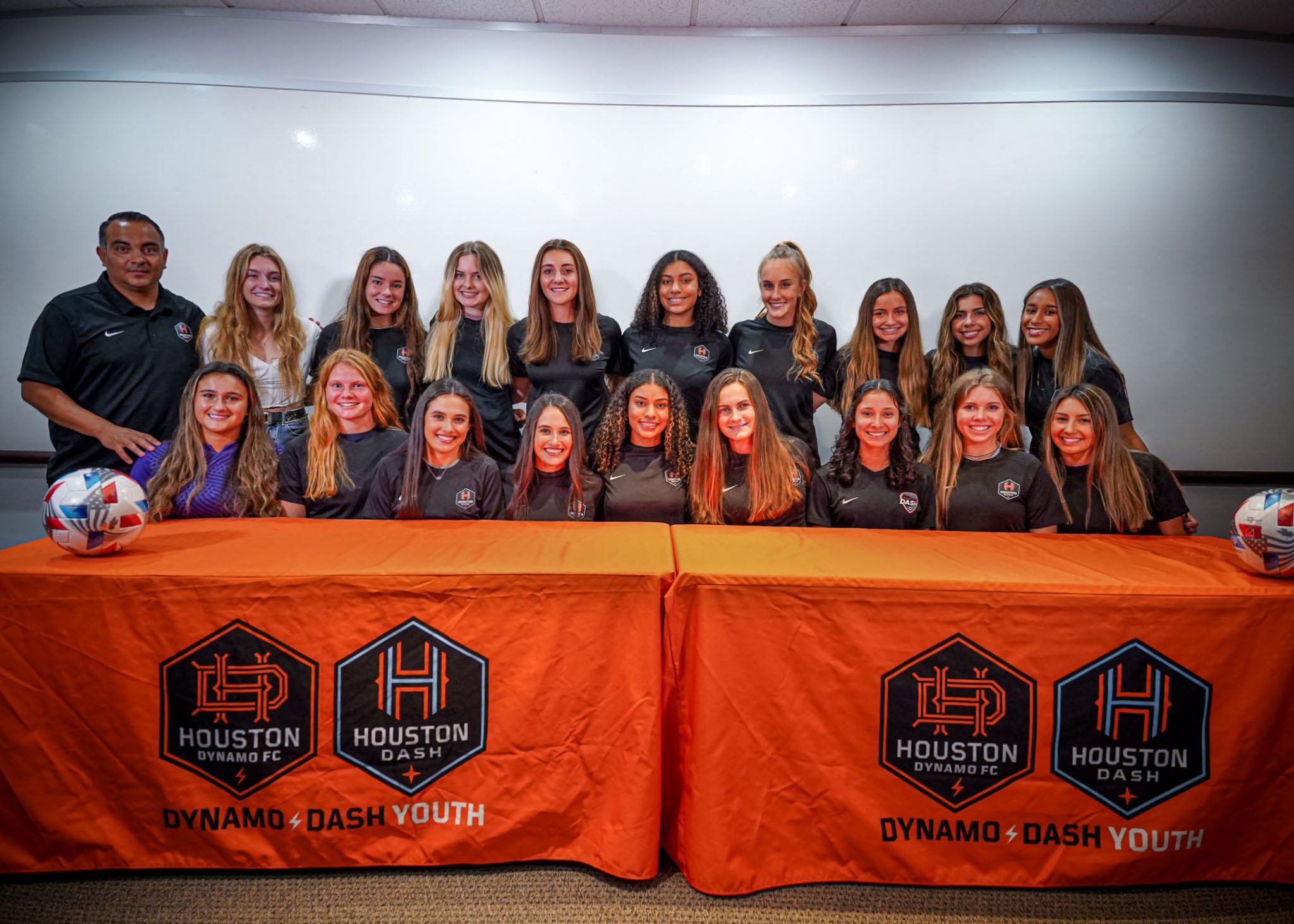 Pictured above Girls Academy U19 with Coach Omar Morales.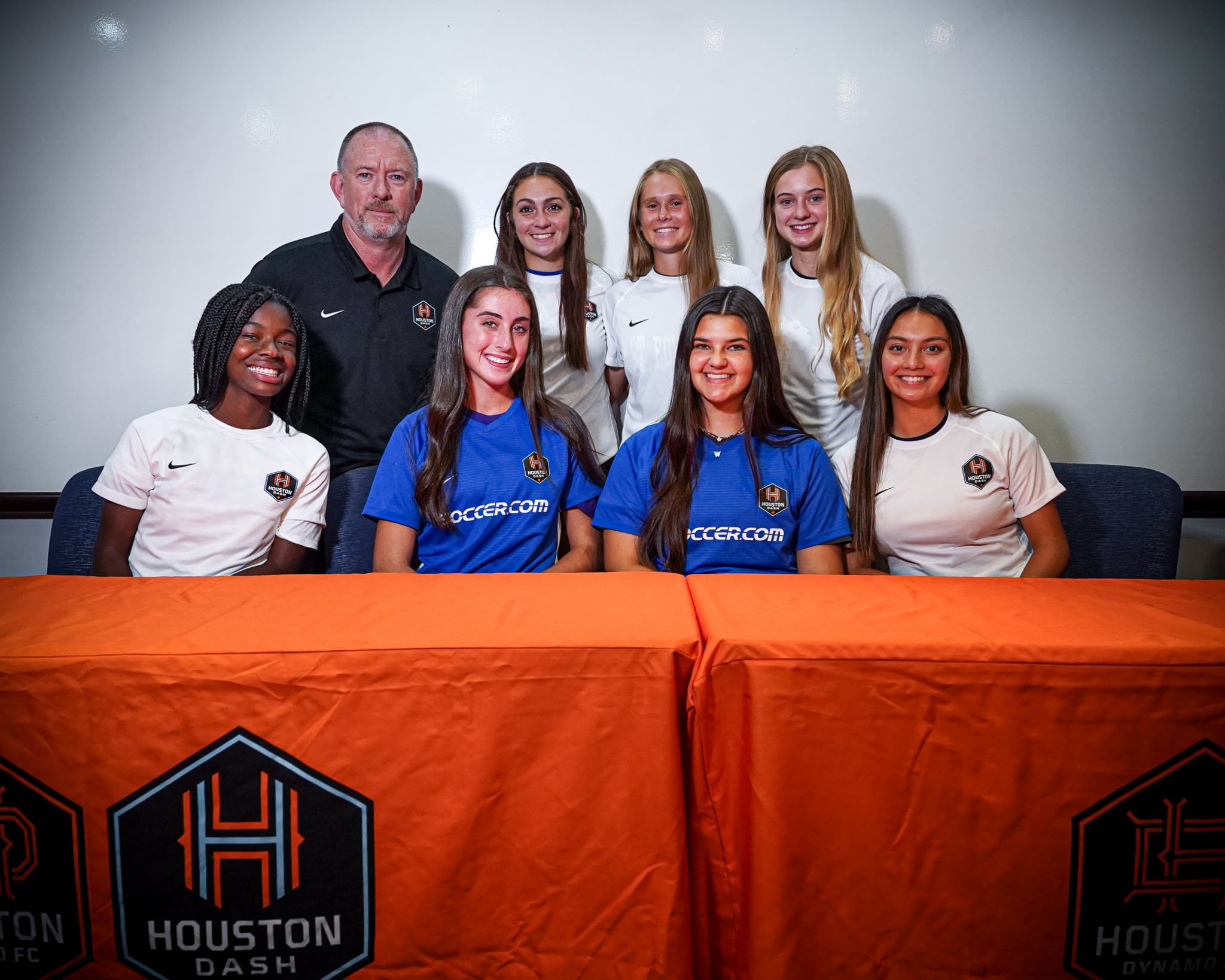 Pictured above GA2 U19 with Coach Gene Van Ness.
"The club has a responsibility to enhance college recruitment opportunities through our resources and extensive networking connections," said Simon Boddison, Director of Soccer Operations. "As part of our membership commitment, we will continue to provide a comprehensive platform that educates and informs all the players and families about the recruitment process to ensure the best opportunity for success. I, along with our entire coaching staff, are thrilled to celebrate these players and look forward to more college commitments throughout the season."

The dedicated, professional coaching staff of Dynamo | Dash Youth is able to work with players to design personalized development plans throughout their soccer career. Our staff's experience in the recruitment process has provided the club an extensive network of contacts across the nation at all levels of college soccer. Every player ('08 - '03 birth years) in the club has access to the College Fit Finder program to ensure they have the ability to find the best opportunities to advance their athletic and academic aspirations and endeavors after high school.
Stay tuned to the club's social media channels and the College Center presented by Northwest Oral & Maxillofacial Surgery for additional college commitments throughout the year!
| | |
| --- | --- |
| FEMALE GRADUATION CLASS 2022 | COLLEGE / UNIVERSITY |
| Ashley Washburn | Lamar University |
| Alexandra Lopez | Howard Payne University |
| Allison Turner | St. Edward's University |
| Bailey Williams | St. Edward's University |
| Danielle Shannon | Louisiana State University |
| Ellen Persson | University of Illinois |
| Hannah Noel | Howard Payne University |
| Jessica Molina | Rice University |
| Kamryn Baquero | Sam Houston State University |
| Kayla Moody | Southwestern University |
| Kennedy Baquero | Sam Houston State University |
| Kennedy Dolmage | Howard Payne University |
| Kennedy Floyd | Florida International University |
| Kialie Hudson | Davidson College |
| Laney Gonzales | Louisiana State University |
| Lauren Walker | Dallas Baptist University |
| Lillian Ross | Abilene Christian University |
| Nia Musquiz | Houston Baptist University |
| Rebecca Partyka | Northeastern State University |
| Regan Noel | Howard Payne University |
| MALE GRADUATION CLASS 2022 | COLLEGE / UNIVERSITY |
| Cody Tice | Oral Roberts University |
The College Center is brought to you by Northwest Oral & Maxillofacial Surgery

---